Komt wilt u spoeden
Dutch carol, anon., 17th century
A joyful old Dutch song with a dancing 6/8 time signature. Its origins are unclear although it appears in various collections dating from as early as the 16th and 17th centuries. Everyone is called to make haste to Bethlehem in order to witness the wonder. Following Medieval practice, the arranger has added some fragments of Martin Luther's Christmas carol for children: Vom Himmel hoch, da komm ich her. A mixing of melodies in this manner is known as a Quodlibet. (arr.: Euwe de Jong)

Dutch carol, anonymous, 15th century

Komt, wilt u spoeden naar Bethlehem,
hoort, als de vroede der eng'len stem.
Vervoegt u mede bij 't zoet akkoord,
't is pays en vrede dat men daar hoort.
Nu is verdwenen de duist're nacht,
't Licht is verschenen, Adams geslacht.
Een douwe daalt neer, geen rouwe nu meer.
Ziet, in de kribbe ligt onze Heer!

Komt, wilt beminnen den jongen Prins!
Zijn zachte zinnen vergramt geenszins.
Begeeft uw leden tot Zijnen eer, / Vom Himmel hoch da komm ich her
zijn wet en zeden volgt meer en meer.
Wilt u verkloeken dag ende nacht
om Hem te zoeken met al uw kracht. / den Hirten gehn hinein.
Zijn paden zijn slecht, Zijn reden oprecht;
al komt gij spade, gij wordt Zijn knecht / und singen uns solch's neues Jahr.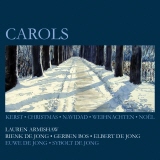 Lauren Armishaw, soprano - Gerben Bos, tenor
Rienk de Jong, countertenor - Elbert de Jong, baritone
Euwe & Sybolt de Jong, harmonium > order cd
1 - 10: € 5,= per arr. / 11 - 20: € 4,= per arr. / 21 <: € 3,50 per arr.

The arrangement (PDF) and invoice will be sent by mail.
Via mail ontvangt u het arrangement als PDF met een factuur.