Poor wayfaring
English Folk Song
An 18th century folk song from England about a travelling stranger (with a restless soul) on his journey through life's challenges. The arranger in fact introduces two further strangers, the trio following each other in canon through their life journeys. (arr.: Sybolt de Jong)
S/A/Brt/2 harmoniums
S/A/Brt/2 piano's
S/A/Brt/piano/melody instrument (g#o - d3)
Other combinations? mail to Sybolt de Jong for possibilities and prices.
English Folk Song

I'm just a poor wayfaring stranger
a-traveling through, this world of woe.
But there's no sickness, toil nor danger,
In that fair land to which I go.
I'm going there to see my father,
I'm going there no more to roam.
I'm just a-going over Jordan,
I'm just a-going over home.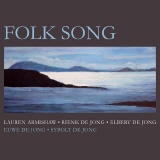 Lauren Armishaw, soprano
Rienk de Jong, countertenor - Elbert de Jong, baritone
Euwe & Sybolt de Jong, harmonium > order cd
1 - 10: € 5,= per arr. / 11 - 20: € 4,= per arr. / 21 <: € 3,50 per arr.

The arrangement (PDF) and invoice will be sent by mail.
Via mail ontvangt u het arrangement als PDF met een factuur.