Cradle Song
Mel.: W. Y. Hurlstone (1900)
The melody of this lullaby comes from 'Four Songs for Soprano' by the English composer William Yeates Hurlstone (1876 - 1906). The text is borrowed from a Spanish carol: the cradle is rocked by Joseph, the profit Anna and St Joachim (named as the father of Mary). The arrangement opens with a 'searching' chord after which the listener is gradually drawn into the scene. (arr.: Sybolt de Jong)
S/A/T/Brt/2 harmoniums
S/A/T/Brt/2 piano's
S/A/T/Brt/piano/melody-instrument (c1 - es3)
Other combinations? mail to Sybolt de Jong for possibilities and prices.
Spanish traditional

The baby child of Mary, now cradle he has none;
his father is a carpenter and he shall make him one.

The lady good St Anna, the lord St Joachim,
they rock the baby's cradle, that sleep may come to him.

Chorus: That sleep may come to him...

Then sleep thou too, my baby, my little heart so dear;
the Virgin is beside thee, the Son of God is near.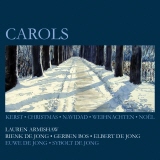 Lauren Armishaw, soprano - Gerben Bos, tenor
Rienk de Jong, countertenor - Elbert de Jong, baritone
Euwe & Sybolt de Jong, harmonium > order cd
1 - 10: € 5,= per arr. / 11 - 20: € 4,= per arr. / 21 <: € 3,50 per arr.

The arrangement (PDF) and invoice will be sent by mail.
Via mail ontvangt u het arrangement als PDF met een factuur.