Te Harinui
New Zealand carol
Te Harinui (Hari = joy, nui = great) was premièred in 1959 and has since attained an almost iconic status in New Zealand. The hymn-like melody and text are from the hand of folklorist and composer Willow Mackey (1921 - 2006). The text of the second verse in particular is remarkable when read from a European perspective:
But on a summer day
Within a quiet bay,
The Maori people heard
The great and glorious word.
(arr.: Lauren Armishaw / Euwe de Jong)
S/A/T/B/2 harmoniums
S/A/T/B/2 piano's
Other combinations? mail to Sybolt de Jong for possibilities and prices.
New Zealand carol

But on a summer day
Within a quiet bay,
The Maori people heard
The great and glorious word.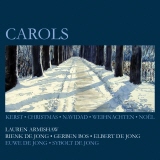 Lauren Armishaw, soprano - Gerben Bos, tenor
Rienk de Jong, countertenor - Elbert de Jong, baritone
Euwe & Sybolt de Jong, harmonium > order cd
1 - 10: € 5,= per arr. / 11 - 20: € 4,= per arr. / 21 <: € 3,50 per arr.

The arrangement (PDF) and invoice will be sent by mail.
Via mail ontvangt u het arrangement als PDF met een factuur.