Fum, fum, fum
Catalan carol, 17th century
A Catalonian Christmas carol from the 17th century, sung on the 25th of December (A vint-i-cinq de desembre). The word 'fum' is an onomatopoeic imitation of an instrument (perhaps a guitar or small drum). The arrangement is based on a composition technique common in the 17th and 18th centuries: the light baroque melody is accompanied by a second voice which consists of a repeating bass melody (known as an ostinato). (arr.: Euwe de Jong)
S/A/T/Brt/2 harmoniums
S/A/T/Brt/2 piano's
Other combinations? mail to Sybolt de Jong for possibilities and prices.
Catalan carol, 17th century

A vint‐i‐cinc de desembre,
fum, fum, fum, (2x)
ha nascut un minyonet
ros i blanquet, ros i blanquet;
Fill de la Verge Maria,
n'és nat en una establia. (2x)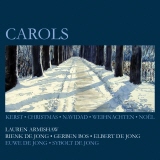 Lauren Armishaw, soprano - Gerben Bos, tenor
Rienk de Jong, countertenor - Elbert de Jong, baritone
Euwe & Sybolt de Jong, harmonium > order cd
1 - 10: € 5,= per arr. / 11 - 20: € 4,= per arr. / 21 <: € 3,50 per arr.

The arrangement (PDF) and invoice will be sent by mail.
Via mail ontvangt u het arrangement als PDF met een factuur.